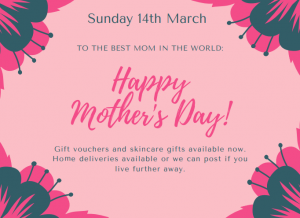 Welcome to Skin and Tonic…
COVID-19 Salon Update:
The salon is currently closed due to COVID-19 restrictions. We can still retail skincare, vouchers and offer skin consultations virtually. Click on our social pages for up to date offers and promotions during lockdown.
All clients will be sent out a health questionnaire to be completed prior to their visit to the salon. Please be assured that Skin & Tonic is thoroughly sanitized before and after your appointment and a mandatory temperature check will be carried out before your appointment. Please be aware that a mask must be worn at all times during your appointment.
If you are suffering from any of the Coronavirus symptoms please cancel your appointment. Likewise if you have been in contact with any who is suspected of having the virus please cancel your appointment and rearrange for a later date.
For more information please do not hesitate to call the salon or contact Claire directly.
Thank you for your continued support.
Who are we?
Skin and Tonic was opened by Claire McCormack in November 2000.
Claire has been delivering her expertise in a wide range of beauty treatments since she qualified in 1991. We offer a wide range of Beauty, Holistic and Aesthetic services in relaxed, spacious surroundings. The Professional team at Skin and Tonic have been trained to a high standard and deliver the very best in all the treatments they are qualified to perform.
We firmly believe, based on our education and experience, that we offer the best retail and professional products available in the industry. We use Elemis, Biotec, St Tropez tan, Crystal Clear microdermabrasion, O.P.I nails, Nouveau LVL Lash lift, Shellac power polish, CACI non surgical facials and we retail ABSOLUTE COLLAGEN. New to Skin & Tonic's retail range is The Natural Spa Factory.
Skin and Tonic is a place to relax, rejuvenate, and refresh your mind and body.
Please enjoy reading our treatment menu but if you need any help with choosing a treatment then call us and we can advise you on the best treatment for you.
See you very soon.
To keep updated with daily offers and Skin & Tonic news follow our social media accounts on Facebook and Instagram.
https://www.facebook.com/Skintonic.co.uk
https://www.instagram.com/skintonic_beauty/
We have 20+ years of experience

We have hundreds of regularly satisfied customers

We employ several highly trained Therapists

We specialise in all aspects of Beauty and Holistic Treatments
This is the best salon ever! It was amazing to go back to Emma and have a massage and wonderful to have my nails done too. Very professional and still very relaxing despite current guidelines. All has been managed so well and everyone's wellbeing is a priority. Highly recommended.
I visited last week and I was really anxious as this is the first thing I've done outside of the house and local food shop since lockdown. I needn't have worried! The usual fantastic service coupled with excellent safety measures. Hand sanitizer, hand washing, face masks, visors, plastic aprons, gloves, temperature checks, only saw one other customer so well spaced out appointments. Made me feel so comfortable and like my concerns were something they really cared about. Round of applause and welcome back x
I visited Skin and Tonic for the first time since re opening due to Covid…. Claire and the team have gone above and beyond ensuring client and staff safety. I felt very safe being in the salon it is spotlessly clean and all measures in place to keep us all safe, hand sanitisers, masks, visors, aprons, gloves and all being used correctly. My treatment with Emma was as fabulous as ever can't wait for more treatments!! Keep up the excellent work.